Starting Out With The Right Ring Design
Before you start to think about the perfect diamond for your girlfriend's engagement ring you will have to get the ring itself just right. The ring comes in two distinct parts, the metal band and the setting, and you will need to choose a type of metal and a style of setting.
Choosing the metal
Choosing the metal for an engagement ring involves a little research into your girlfriend's jewelry collection. Does she wear mainly gold jewelry or silver jewelry? Most women have a strong preference for one or the other, usually depending on their skin tone, so once you know which one she wears you can start from there.
If your girlfriend wears mainly gold jewelry, your best option is an 18k yellow gold ring. However if she prefers silver jewelry you have a choice between platinum and white gold. Here is a quick comparison of platinum and white gold.
| Platinum | White Gold |
| --- | --- |
| Very expensive | Less expensive |
| Very strong and pure metal | Softer, more malleable metal |
| Not easily damaged and won't wear away | Easy to damage and will wear over time |
| Difficult to polish and repair | Easy to polish and repair |
Setting
Choosing the right setting for an engagement ring is a matter of personal style. The most popular setting is a six prong solitaire setting, but there are plenty of others you could choose from. Here are three common engagement ring settings:
Prong & Claw Setting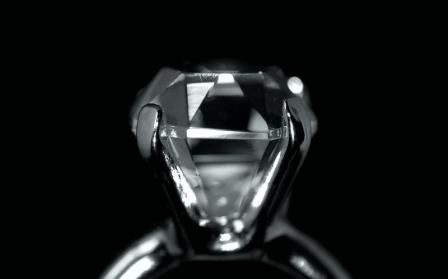 This is the most common setting for an engagement ring and is used in the popular solitaire ring. With a prong or claw setting the diamond is raised up from the metal band and is held in place by a number of metal prongs or claws. This type of setting allows light under the diamond adding to its sparkle. A four prong setting, as shown in this illustration, is popular as it shows off more of the diamond, whereas a six prong setting is slightly more secure.
The prong or claw setting can be used for a solitaire ring with a single diamond, or with multiple diamonds. A three stone ring is often used as an engagement ring with a large central diamond and a smaller diamond on each side, or a different central gemstone flanked by diamonds. The three diamonds of this type of ring symbolize the past the present and the future.
Bezel Setting
A bezel setting can also be used for an engagement ring with a single diamond, but it is seen as a more practical choice. The diamond is totally encircled by a metal collar that holds it in place, and the stone is usually set closer to the ring than with a prong or claw setting. A bezel setting is a contemporary choice and a good option for women that lead very active lives or have physical jobs. A doctor may prefer a bezel setting, for example, to avoid the possibility of scratching her patients.
Channel Setting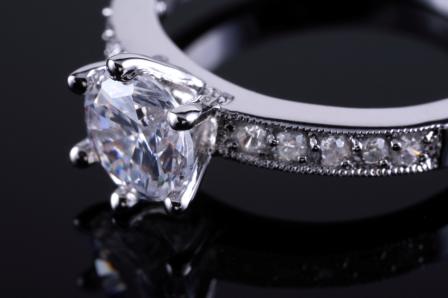 A channel set engagement ring features a number of diamonds lined up in a row. As the name suggests, the diamonds are set in a metal channel, and they are flush with the band of the ring.
An engagement ring that features purely channel set diamonds is a modern design, and again is quite practical. However, rows of channel set diamonds can also be used either side of a claw set solitaire to give the central diamond more sparkle, as seen in this illustration.